The Five Lamps Arts Festival is big on events for children. I had the pleasure of going to see two events provided free of charge to local primary schools.
The Magikloko Theatre Company presented and performed Dreams Under the Roof at Marino College for the junior and senior infant classes of St Vincent's Girls National School.
Two performers filled the stage with music and characters and fun.
Using interchangeable props and costumes – a walking cane turned into an oar with the greatest ease – our imaginations were called into force to support the unfolding construction and deconstruction.

A wooden box proved the most versatile piece of equipment transforming from a mere background object to a boat to a huge bus made out of sweets, with wheels of chocolate.
The play was all about dreaming – and the audience firmly got behind this important theme.
In fact, the junior and senior infant girls from St Vincent's were a stellar audience. Fantastically engaged in what was already an interactive performance, they were literally jumping out of their seats with delight and shrieking with laughter.
When one of the performers produced an oversized lollypop, chants of 'Eat it! Eat it!' erupted with spontaneity. And feeling!
As feathers of different colours were tossed in the air and sprinkled on the stage, the stage was duly stormed by some of the more spirited pupils.
Dreams Under the Roof was engaging and entertaining, as well as hopeful and optimistic.
The children encouraged the fictional characters to remember and follow their dreams with support and conviction that was really lovely and heartening.
The Fanzini Brothers brought their Impossible Circus to Marino College.
The 'impossibility' of the circus lay in Fanzini's perception of his brother Ronaldo as a rather useless clown, badly able to follow instruction.
But you know, Ronaldo actually turned out to be a fantastic clown in his own more loose, unfussed right, and a natural in mischief and in silliness.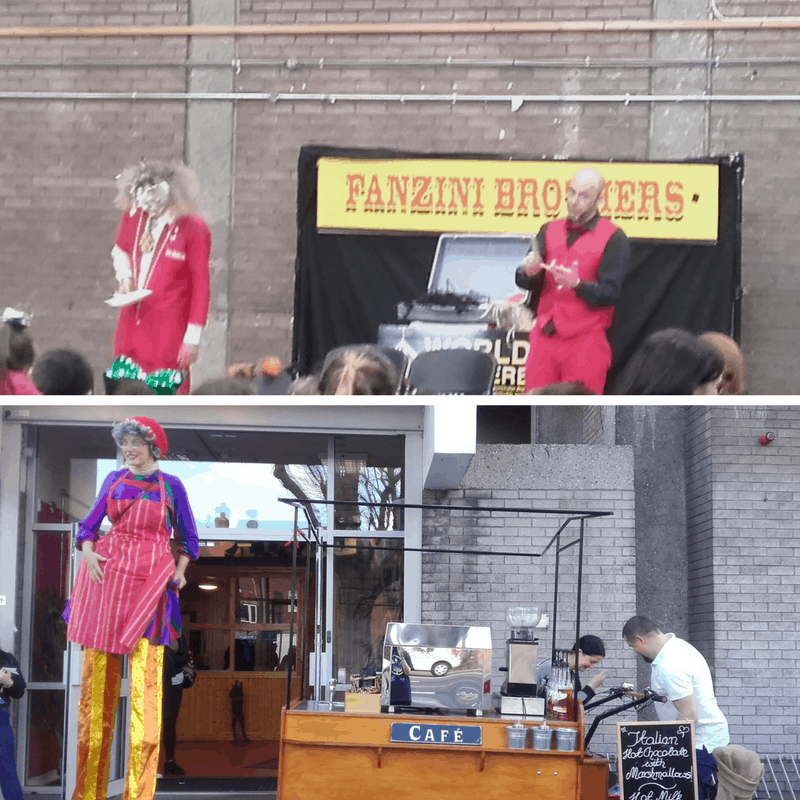 The Impossible Circus was a very funny and entertaining show. It was sharp, well timed and the performers really engaged and involved the audience.
At one point, I think Ronaldo may even have become an item with one of the teachers and adopted two of the children!
The Fanzini Brothers brought the gags – a hobby horse, a pogo stick, ridiculously small hurdles, a pie in the face, knives, a whip – it all worked.

The gymnasium was full of laughter, the children were frequently off their chairs dare they miss anything, and they were always keen volunteers to join the madness onstage.
Before and after the show, a character on stilts was there to bid hello and goodbye to the audience, setting the precedent for the morning's whimsy.
Written by Marian Brosnan